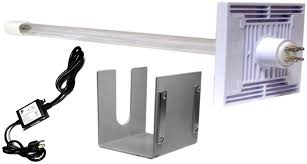 Speedlight JR. UV Light Air Purifier - 120V 14" Ultraviolet Kit
The SpeedLight‰ã¢ Jr. offers the quickest installation on the Planet! Simply cut a hole, insert the lamp and you‰۪re done. No screws need. The SpeedLight uses powerful magnets to hold the mounting plate in place.
The SpeedLight‰ã¢ Jr. is an easy, yet powerful solution for air stream disinfection or coil irradiation. It is designed to inhibit growth of bacteria, mildew, mold and other fungi. The unit is available with a 14‰۝ or 16‰۝ 100% Germicidal UVC lamp.åÊ
SpeedLight䋢 Jr. installation and service is simple. The unit also includes a magnetic mounting bracket for optional installation inside air handlers.
SpeedLight‰ã¢ Jr. is the ideal solution for healthier indoor environments for all homes and businesses.åÊ
Kills bacteria, viruses and mold
Easy Installation and ServiceåÊ
Magnetic mount holds lamp in place
No holes needed for installation in coil area
Water resistant lamp connection
UL/ULC listed, compact electronic power supply
Produces no ozone or aldehydes
Keeps HVAC system cleaner and more efficient
---
We Also Recommend
---