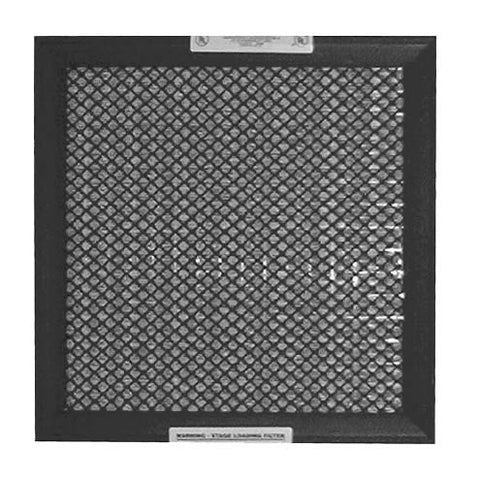 A+2000 Washable Electrostatic Permanent Custom Air Filter - 15 5/8" x 24 5/8" x 1"
You may know them as washable air or even permanent air filters; some just refer to them as electrostatic filters. Either way, the "A+2000" brand Permanent Washable Electrostatic custom air filters are truly quality products, built to last a lifetime. Unlike some permanent custom air filters, the A+2000 uses no foam that may clog, degrade and restrict air flow, so it can provide a lifetime of dependable service. And there are no metal parts that could lead to corrosion or oxidation within the filter.
The secret behind the A+2000‰۪s custom air filters performance is the patented stage loading/peak and valley design. Instead of face loading (particles captured on the outer surface of the filter), the A+2000 uses stage loading, with each stage capturing progressively smaller particles inside the filter. This design enables A+2000 custom air filters to maintain performance over the years.
You never have to hassle with disposable filters that will end up in a landfill again. Some of the other benefits of A+2000 custom air filters include the following. They are easy to install with custom air filters made to the sizes that you specify. The A+2000 line is easy to maintain with no need to buy oils or adhesives to enhance effectiveness. They are easy to clean by simply backwashing every month with cold water so you don‰۪t need expensive cleaners. Finally they are factory made so you don‰۪t have to deal with the hassle of trying to cut and size your custom air filters and they come with a full warranty.
To order washable electrostatic custom air filters you just need to know the size of the current air filter. To find the size the old unit should have sizing information printed on it, if not you can measure it or check the HVAC unit and the owner‰۪s manual. Then simply add that information to our easy to use order form above. We can make custom air filters in heights and widths ranking from 6 inches to 36 7/8 inches with increments in 8ths of an inch.
Because we specialize in custom air filters, these can be purchased in any conceivable size. To learn more, please click HERE to read detailed brochure (Adobe Reader PDF file). Then Order custom air filters from us today!
---
We Also Recommend
---